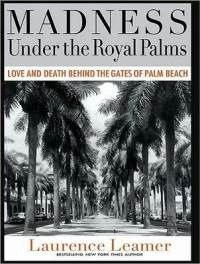 In his book Madness Under the Royal Palms, author Laurence Leamer performed an experiment to infiltrate West Palm Beach, Florida's blue-hair retirement community. Not too rough an assignment, right?
Hold on. After his first few days there, the entire residential board showed up on his doorstep, not to welcome him but rather to tell him he could no longer sit in his bathrobe in his office study without the blinds that were, incidentally, on their way in the mail.
Little did Leamer know that he was experiencing "the tip of a submerged world, which when fully explored, would yield as strange and, in some instances, as decadent a culture as one could find on or off this continent."
He tells the story of one resident, Barbara Simmons, was the former social secretary to the first lady Pat Nixon. She was a big hostess of West Palm social events, where the women were all inevitably at least 20 years younger than their husbands.
For these regular balls, the community's gay men designed the houses, decorated the homes, dressed the ladies, created the ambience, advised the aspiring, and escorted the widows.
None of this yet describes the darkness Leamer claims that the book uncovers, but it hints at it. And being the non-senior citizen that I am (and, hence, not "in the know") it sounds like a book I'm going to continue reading past the the intro.