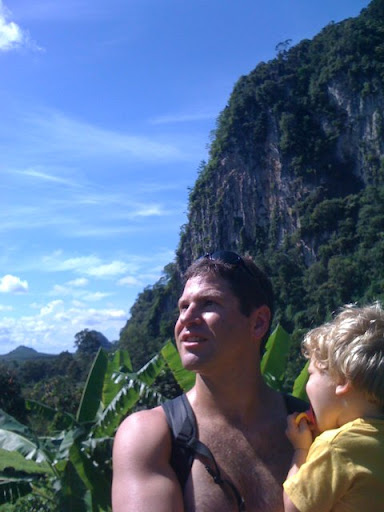 Our fears about the quality of our mountain resort from the night before were, shall we say, dramatically unfounded.
We woke Sunday morning to one of the most beautiful views imaginable: a giant rock karst mountain looming thousands of feet above us outside our cute yellow and brown bungaloo.
The chefs got our compliments as breakfast of French toast, pancakes, fresh fruit grown at the resort, baked beans, and bacon and eggs satisfied our need for some good old Western food. And, oh, the coffee in Thailand is so good, especialy after the nasty instant stuff in Cambodia over the past two days.
We took a hike along a lengthy construction of waterways built impressively (and very natural-looking) throughout the resort. At the high point, we ended up at a pool that we were at first unsure about venturing into. Bur with the heat bearing down, it didn't take long for us to jump in. The water felt wonderful and Jackson was soon spraying us with a hose and crawling all over the rocks jutting up throughout the pool water.
We took advantage of the short afternoon rains by napping, reading and playing online a little bit. Then we took another hike to view the sustainably operated resort, with rubber being tapped from the trees to sell; plenty of papaya, coconut, and banana trees; and lillypad farms, to name a few highlights.
More good Thai food ended our day. We'll wake up in the morning, eat breakfast, go for a swim, and head to the beaches. I can't believe my sabbatical ends in a little under two weeks. Life is too good to work!